Back To:

Home > Services > PlanetDNS Pro > Overview
E-mail Page | Print Page
PlanetDNS Pro Service
PlanetDNS Pro offers the same features as the PlanetDNS Standard service but with the ability to use your own top-level domain name, such as www.yourdomain.com.

You and others can use your domain name to locate your computer on the Internet. It works even if your computer is connected to the Internet with a standard DSL, Cable-modem or Dial-up service with a changing (dynamic) address.

You can use this service to run your own website, share files such as MP3's, share photos, host a game server, or run any other type of Internet Server software.



Download


5.37 MB

Purchase


$59.95 USD /year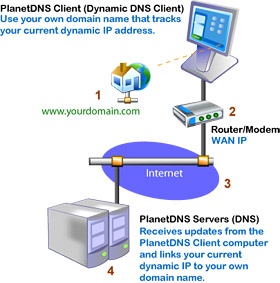 How it Works
The PlanetDNS Client (1) runs on your PC and is used to assign your computer your own domain name
Your domain name is instantly linked to your Router/Modem's external dynamic IP address (2)
When your ISP (3) changes your dynamic IP address, your Router/Modem (2) up dates its external interface to reflect the change in IP.
Your new IP address is detected by the PlanetDNS Client (1)
The PlaneDNS Client (1) sends an update to the PlanetDNS Servers (4) to update its records and link your new IP to your domain name.
It's all in the name
All you need to do is register your own domain name and our PlanetDNS Servers will keep track of your computer's address and let the rest of the world know where to find you when they type in your domain name.

We provide you with our easy-to-use PlanetDNS Client software that installs on your computer and automatically updates your domain name with your computer's dynamic IP address each time it changes.

Easy to remember
All computers on the Internet use IP addresses to communicate with one-another. IP addresses are long numeric values that are not easy to remember.

With PlanetDNS Pro, you can use your own domain name that you can use instead of your IP address to locate and connect to your computer.

Your name stays the same
Your chosen domain name will always stay the same, even if you change Internet Service Providers (ISP), or if your computer is assigned a different IP address.

Whether you connect using DSL, Cable, Satellite, Wireless, LAN or Dialup, your ISP most likely assigns your computer a different IP address each time you connect to the Internet.

With PlanetDNS Pro, your chosen domain name simply stays the same and we automatically update your domain name to point to your computer's current IP address.